Ever since Deshal started its journey in 2005 by three Charukala (Institute of Fine Art, Dhaka University) friends Ishrat Jahan, Kanak Aditya and Shobuj, the Aziz Super Market outlet has attracted an impressive fan-following among students. Their simple yet elegant line of designs in fotuas, shalwar kameezes and short kurtas were clearly different from the other contemporary deshi fashion houses.
Deshal clothes can best be described as no-nonsense yet trendy and very popular amongst the youth. Their fotuas and short kurtas range from Tk 280 - Tk 550, shalwar kameezes from Tk 850 - Tk 1,350 and saris from Tk 350 - Tk 1,200. While beginning with this project, the designers focused mainly on young students, for whom comfort and affordability are big factors, sometimes even more than looking good on campus. "We created our line keeping university students in mind," says Shobuj. "In fact, when we were starting out with Deshal, we ourselves were students and were aware of the questions that a student would ask before buying a shirt or a shalwar kameez - is it worth the money, will he or she be comfortable considering the fact that he or she will have to spend a whole day moving from one class to another or even one area to another, will he or she look good when they are out with friends, etc."
Ishrat Jahan was a teenager when she began to design clothes. "I used to work with
pigment colour and water colour on my designs," she says. While studying at Charukala, she would design these clothes as a hobby. "My friends loved my work and would encourage me to take it up professionally. But I did not have any such thought back then." It was in 1999 when she held an exhibition of her designs that set the ball rolling. "Everyone loved them," she says. Soon after she graduated, Ishrat joined Nipun, a fashion house and worked there as a designer for four years. "I would design clothes right from scratch," she says. "Starting from weaving threads from cotton to actually coming up with fabrics and planning stitches, cuts and colour combinations, I would work on everything." At one point, Ishrat needed a change and joined Jatra, another fashion house, in 2003. "I liked working there," she says. "I worked there for a year." Soon after that, she started to work on her own project along with her fellow designers Kanak and Shobuj.
For quite some time, young people in Dhaka have been identifying with deshi fabrics and designs. Thanks to many outlets and big names that have sprung up in the last half a decade or so, these young men and women prefer earthy, muted colours rather than garish hues of synthetics, that dominate the markets. However, Deshal has also successfully made colours like bright orange and combinations of parrot green and water blue a hit amongst these same clientele.
"We mainly experiment with colours and try different combinations," says Shobuj. "For this Eid, we played with plenty of colours and brought out different shades. I don't even know what half of the shades are called!"
- Designers: Ishrat Jahan,
Kanak Aditya and Shobuj
Not only have they practically introduced vibrant colours to the generation, their designs and fabric are also unique. "We have subcontracts with weavers in Comilla and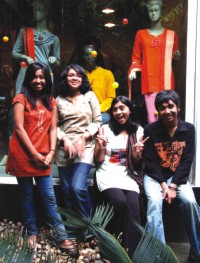 Narshingdi," says Shobuj. "We give them designs for handlooms like Khadi, Khaddar and Taanth. A lot of our patterns depend on the thick and thin threads, which finally differentiate one fabric from another."
Ishrat says that while designing, she has to keep in mind several factors, one of them being the typical structure of a Bangladeshi female. Each garment has six sizes so that the designs can cater to a large number of customers. "We are thinking of adding a seventh size this season," she says. "I also keep in mind that a garment should not be bigger than the person who wears it. I like to play with colours, however tend to focus on a dominating colour. For instance, if I work with the colour blue, I will add shades of other colours to the garment as well, but the dominating colour would seem completely blue. In the case of three-pieces as well, I sometimes prefer solid colours for the orna and the shalwar, while I keep simple shades of a couple of colours for the body."
Kanak mainly works on fotuas for men. One of the specialities of these fotuas is that many of them turn out to be an artist's canvas. These designs give out messages for the people, which can relate to world history and also to the current happenings in the country. "This Eid we have some designs which speak of the rapid price rise that we are facing in the economy, not to mention the frequent load-shedding that has increased over the last few months," says Ishrat. Artists like Saleh Mahmud, Bipul Shah and Rabi Khan create art pieces for these designs.
Yet another specialty of Deshal designs is their ability to beautifully balance a combination of colour patterns and stitches. The kurta which might exude deshi radiance, a simple stitch work and a soothing colour combination, upon closer observation, would probably reveal a more complex and intricate design pattern thanks to the expert mind of the designer who worked to keep the design simple yet looking strong and chic.
Deshal's designs are also popular amongst young men. 24-year-old Riaz Hassan has recently joined a multinational company after completing his undergraduate degree from a private university. "I started to shop regularly from Deshal after my friends got me a fotua from this shop as a birthday present." It was a black fotua with a painting of symbols and motifs representing the language martyrs and the language movement of Bangladesh. "It was very trendy and not just another fotua with designs that you see everywhere nowadays," says Riaz. "It looked good and also fitted well! From then on, I would buy kurtas and fotuas from Deshal." Besides fotuas and short kurtas in checks and stripes, the store also has a line of stylish shirts in different colours and fabrics.

Today the Bangladeshi market for fashionable wear is thriving thanks to the new generation of designers who are trying to create original styles. The young and the fashion-hungry no longer have to look for foreign garments to look trendy and cool. Fashion houses like Deshal which combine creativity with sound fabric sense may well become chic enough to hit the global markets.

-- Collected (From The Daily Star).

Addresses:
Shahabaag: 124/a, 2nd floor, aziz co-opperative super market, shahbag, dhaka.

Shahabaag:

15-20, 1st floor, aziz market, shahbag, dhaka

Banani: House 99, block C, road 11, banani, dhaka


Phone

:

+880187549553 +880152361139


Dhanmondi:

440 metro shopping mall, 2nd floor dhanmondi, dhaka


Bailey road:

1/c new bailey road (12 natok shoroni), dhaka



info@deshal.com deshal.bd@gmail.com
web: http://www.deshal.biz/
Deshal web:
www.deshal.com.bd
E-mail: info@deshal.

net

, deshal.bd@gmail.com
phone

:

+88

03772011973